A broken friendship that is mended through forgiveness can be even stronger than it was
7. Kabir's gift for Pooja
A drop of tear escaped from Shivli's eye and she smiles. She closed the diary and lie on the bed comfortably. She never thought the painful days at the hospital will turn a bit fruitful after Shiva's entry. She could never forget the moments with Shiva during the time.
Flashback:
Shivli was happy and tried to keep her negative thoughts away from her. In the following days, she encouraged the fellow diseased kids to be happy. Shiva too visit hospital sometimes to give chocolates to them and he befriends with Shivli so soon.  To her surprise, the kids who were in a critical stage, had an improvement in their health condition. Shivli and Shiva are happy that their attempt was successful. Shivli prayed to god that she should also recover from the disease and she stayed motivated because of Shiva and other kids.
After some days, Shivli's condition improved and soon she was discharged from the hospital. So, Kabir's responsibilities and burden are reduced considerably. From then onwards, Shivli cooked for Kabir and Suman and she go to the hospital to take care of Suman. She did various chores at home and gained money.
One day, when Shivli was cleaning her house, someone knocked the door. Shivli opened the door and doesn't find anyone and when she is about to shut the door, Shiva jumped from the left side and scared her saying, "Booommmmm…"
Shivli screamed in fear closing her eyes.
Shiva laughs seeing her situation. After recognizing the voice, Shivli opens her eyes and looks at Shiva who is smirking at her. Shivli stares at him.
Shiva – "You are caught with this simple prank itself, Shivli…"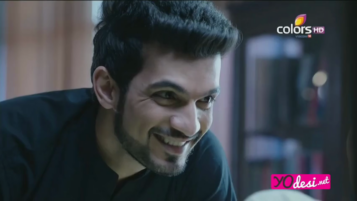 Shivli – "Thank god! You and your silly pranks…"
She takes Kabir's bat from the hall and comes to beat him. Fearing her, Shiva runs while she chases him. Shiva stops and kneels down at her.
Shiva – "Okay madam… I'll surrender…. I can't run anymore…"
Shivli stares at him while Shiva gives a sheepish smile.
Shivli laughs and pulled his ears. Shiva screams… She lets him free then and Shivli took Shivaandh to her house.
Shiva – "Actually, I came here to invite you for a drama."
Shivli – "Drama?"
Shiva – "Stage drama… I mean, it is a carnival competition. There are many teams. I am looking for a pair for my drama. Will you join me?"
Shivli – "Sounds silly… Are we in the age of doing stage drama?"
Shiva – "You're just 21 and I'm just 22. Most of the participants are youngsters…"
Shivli – "What is the story?"
Shiva – "No idea." (gives a clumsy smile)
Shivli – "Oh! This boy… Then, what are we going to do?"
Shiva – "We'll decide later, drama is one evening… Let us register our name in the register."
Shiva, stands up and get out.
Shivli – "What? Evening…"
Shiva honks his horn saying, "Come out fast, Shivli…"
Shivli comes out and sit on the bike. They registered their names and come back to the house.
At the garden, Shivli takes a paper and pen and sits and starts writing something…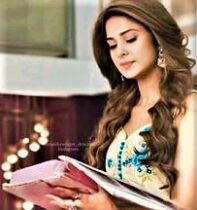 While Shiva is looking here and there.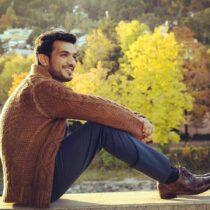 Shivli – "Shiva… do you have any idea of the story? Shall we write a play of Indian Independence? Salt Satyagraha…"
Shivli looks at lost Shiva and knuckles. Shiva looks at her.
Shiva – "Haa (yeah) Shivli bolo (Say)!"
Shivli stares at her while Shiva gives a sheepish smile.
Shiva tried to manage the situation,
Shiva – "By the way Shivli, had you done any stage roles in childhood?"
Shivli knew Shiva is going out of topic, but still she is interested in Shiva's antics.
Shivli – "Yes, there are many roles I have done… Can you guess any one of my roles, Shiva?"
Shiva – "Hmm… like Queen or Fairy or Princess…"
Shivli – "No… (smiles)"
Shiva – "Oh Shivli, say it by yourself. I can't guess anymore…"
Shivli – "If I say, you shouldn't laugh, Shiva…"
Shiva – "That's impossible, Shivli… I'll try to reduce my laughter…"
Shivli denies while Shiva pleads her dramatically…
Shivli – "Ok drama king… I'll say… (Shies) I have done roles of the Sanjeevani mountain in Ramayana drama… Then… I did a thief role in Tenali Rama who covered his face with black scarf… Then, I did the role of Princess' maid, monkey, magical plant in Fairy tale drama… I wish to be the princess in the drama who waits for her prince charming, but I never get that (Laughs).."
Shiva didn't laugh, but he really admired how she expressed her feelings with some shyness and some awkwardness with some blush. He admired her antics too. He don't know why, but he felt to see her as a princess and wished to fulfill the desire.
Shiva – "Shivli, you're going to be the princess in this fairy tale skit. What say?"
Shivli – "Shiva, are you crazy? Are we going to do any romantic drama evening? And how I…? I said for fun that I wished to be a princess in my school drama…"
Shiva – "Oh come on, Shivli…  It's just a drama… Fairy tale dramas are also allowed…"
Shivli – "Shiva… No…"
Shiva – "What is wrong in it? We can make it like Snow White with some mixture of Titanic…"
Shivli agreed reluctantly after Shiva's constant requests and they made a beautiful script of a princess meeting her Prince Charming…
At Evening,
Shivli and Shiva took the dress from the Carnival sets and dressed themselves appropriately. Shivli comes out in a blue colored full frock and tops covered by a flower crown. Shiva wore a white dress and white pants.
Shiva – "Shivli, you're looking a real fairy. I wonder why your teachers didn't give you fairy's role… You're so beautiful… Hayeeee…"
Shivli becomes very happy hearing his compliment. Shivli screams in joy.
Seeing her happy, Shiva keeps his hands on his chest (gesturing that he was lost on her) while Shivli feels happy mixed with embarrassment and discomfort. Shiva noted that through her expressions.
Shiva – "I am just complimenting you. You are embarrassed as if I am proposing you. I am already taken by the way."
Shivli – "Really? How did your girlfriend allow you to do a fairy tale drama with another girl?"
Shiva – "Yeah, she is Pooja. She never gets insecure when I talk to other girls and its because she knew me since childhood. Also, I am not doing any romantic scenes and all… I just hold your hand, look at your eyes, dance without much body touch…. So no problem…"
Shivli  smiles. In fact, Shivli admires Shiva's antics, looks and action. She has developed a crush for him. She knew that Shiva looked extremely attractive in white shirt and his clumsy smile adds to it, but she is hesitant to admit. Since when, she met him, she had fallen for him. She was unsure whether it is just an infatuation or love. Whatever it is, it is going to be her one-sided.
Soon their turn came and they performed their play.
They had a dance at climax too. The audience enjoyed their part joyously. Shivli and Shiva are extremely happy and content with their performance.
They didn't win any prizes, but they are satisfied.
Shiva and Shivli come out of the carnival by talking. They had chit chats. While Shiva is speaking continuously, he noticed Shivli is not coming near him. Shocked by that, Shiva turned back and Shivli is standing at 5 feet distance from Shiva.
Shivli smiles and run towards him and jumped on him. Shiva holds her waist and caught her. Shivli's face is above Shiva's head and he looks at her face by bowing his face up. Shivli is laughing at him while Shiva is clueless of her action.
Shivli pulled the cheeks of Shiva.
Shivli – "You catch me perfectly Shiva… You know what, I am extremely happy performing with you. It looked so magical to perform the skit. It was so memorable, Shiva. You're really my best friend."
Shiva let her come down.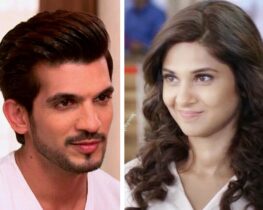 Shiva – "Ahhh… My bones are broken you know… "
Shivli – "Idiot… You never change…"
Shiva smiles naughtily.
Flashback ends
Shivli come to reality and starts doing her job.
*****
Next day morning (7 am) – Pooja's house,
Pooja is sleeping, hugging the pillow.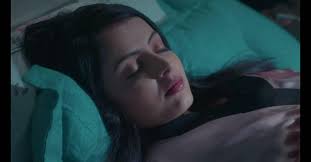 Ishani and Mahek are sitting at the other sides staring at her, seeing her sleep. Ritu is holding the cake. Shiva is holding the party popper.
Three…
Two…
One…
Shiva bursts the party popper and the paper falls on Pooja. Pooja wakes up with a thud and looks at Ritu holding a cake, Mahek, Ishani and Shiva are smiling at her. Pooja smiles and clapped her hands in joy.
Ritu bring the cake to Pooja and asked to blow the candles and she did the same.
Everyone sings Birthday song for Pooja while Shiva is taking video. Pooja cut the cake and make everyone eat a slice.
Pooja shies while others makes fun of her.  Pooja hugged Ishani and Mahek as it is their way to buy her favourite flavoured cake.
Ishani and Mahek applied cake cream on Pooja's face while Shiva is taking video.
Pooja gives a terrific stare.
Mahek nudged Ishani, "Oops, Pooja got angered…."
Ishani is also nervous.
Pooja – "How dare you both!"
She took  the whole cake and run towards Ishani and Mahek saying, "Stop! I'll apply half cake on both your beautiful faces…"
Ishani and Mahek runs while Pooja follows. Shiva records the video. Ishani and Mahek made funny gestures to provoke Pooja more while running.
Everyone come to the lawn of the house. Ishani and Mahek hide from Pooja. Pooja looks for them holding the cake plate. Suddenly, Ishani come from behind and hold Pooja's cake plate. Mahek jumps on Pooja and she fell down. Ishani and Mahek applied the whole cake on Pooja's face. Pooja tried to resist but the girls are successful in spoiling her face. Ishani screams in joy.
Pooja, Ishani and Mahek stands up. Pooja pinched the ears of both her sisters while Shiva captured everything in the video.
Shiva – "Pooja is looking so cute…"
Pooja – "Fools! This cream never go away from my face very easily. Hereafter, if I see any cake in this house, I'll murder Ishani and Mahek with this cake itself."
Pooja licked the cake near her lip and tasted it says, You have wasted a delicious cake, by the way…"
When Pooja is about to go inside to take bath, a voice stopped her.
"When you got dirt, you should bath…"
Pooja looked at the direction from where the voice come. Suddenly water sprinkled on her face and Pooja tried to cover her house and run and the water from the hose followed her. She managed to see the face of him.
Kabir is the one who is splashing water on Pooja's face. Shiva, Ishani and Mahek shouts in joy.
Pooja – "Hey buffoon! How did you come here? If I get hold of the hose, I'll beat you black and blue."
Kabir – "Its a surprise, madam. You beat me later, but first get bath."
Kabir splashed water on Pooja while Pooja too enjoyed that.  Kabir splashed water on Shiva, Mahek and Ishani too. Pooja run towards Kabir and grabbed the hose and vigorously splashed water on him.
Everyone got wet.
Kabir – "In spite of making Pooja bath, we all got bathed. But still the cake cream hasn't gone completely."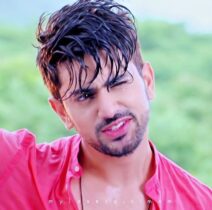 Pooja – "Don't worry Kabir… At least for sake of my shower, you got showered after ten thousand years."
Saying this, Pooja goes inside. Other laugh at Kabir.
*****
Night – 7 pm
Kabir tied Pooja's eyes and brought her to a lonely park. Kabir unfolded the cloth wrapped around her eyes. Kabir and Pooja sit on the bench.
Pooja – "What is this, Kabir? Why did you bring me here at this hour?"
Kabir looked at her eyes deeply. Pooja snapped her fingers.
Kabir – "…For giving a surprise. You'll understand…"
Saying this, he dialed a number and give it to Pooja.  Pooja asked him many questions but he requested her to talk to the receiver. Pooja doesn't want to deny Kabir's request so decide to speak. The ring goes and finally someone attended the phone…
"Pooja…"
The voice has stumbled Pooja to the core. Tears tried to escape from her eyes but she wiped that and cut the call. She stood from the bench and decided to go. Kabir stopped her barring her way.
Pooja – "Kabir… Please…"
Kabir – "Pooja… Please… You have to talk to her.. She is your friend."
Kabir shows the photo  where Pooja and Tara are together.
Pooja holds the photo and looks at it and cries.
Pooja  bows down – "Everything has ended between us, Kabir. Nothing can be sorted out."
Kabir – "No, Pooja. Tara is your friend. She is still your friend. She is your school friend since primary classes. If there is someone to whom you share everything, it is Shiva and Tara only. I know Tara and you had an ugly fight during school days but it doesn't mean that your friendship has ended. You were so young that time. You shouldn't call off your friendship due to your small fights."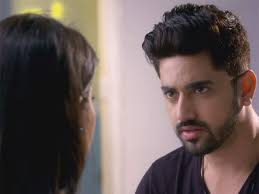 Pooja – "But what to do, Kabir? Its been 7 years since we spoke something. We don't want to speak anymore."
Kabir – "Then, why should she attend the call ? Because she need you, Pooja."
[FB: Kabir called Tara and convinced her for hours to revive the friendship so Tara agreed.]
Pooja – "But… I don't… need… Tara…"
Pooja said with a lot of stresses and stumble. Kabir could understand that her words are different from what her eyes are speaking. Eyes want her friendship… But her egoistic mind doesn't want that…
Kabir hold Pooja's hand and keep on his head.
Kabir – "Now you say the same sentence again…"
Pooja was taken aback by his act.
Pooja – "I don't want…"
She took her hand from his head with a force and turns her face and wiped her tear.
Kabir – "Pooja, if you refuse now, for life long you're going to regret for it… You'll regret that you lost a true friend because of your ego… You'll regret that you lost a true friend with whom you share secrets… Think about it Pooja… Take 5 minutes…. Then your decision will be final.."
Kabir said that left a huge impact on Pooja. She didn't think twice and nodded yes.
Kabir smiled and dialed her number again and give to Pooja. Tara attended the call.
Tara – "Pooja…"
Pooja cries – "I'm sorry Tara… I should not have broken our friendship… I really need your friendship as well as you… Please forgive this psycho…"
Tara – "Psycho… Don't speak like this… (Tara used to call Pooja psycho normally)"
Tara too cries as well as Pooja.
Tara – "I am also wrong, Pooja. I should have tried to contact you later. I too hesitated due to strong head…."
Pooja – "Shut up… Don't say like this… We are now friends now… In friendship… No sorries no thanks…"
Tara laughs and Pooja smiles.
Tara – "Happy birthday Pooja…"
Pooja – "Thankyou so much Tara… I feel like I want to see you. Will you come to park tomorrow evening?"
Tara – "No psycho… I am here only with you…."
Pooja is surprised by her reply and looks out here and there. After few distance, Tara is hiding behind the tree and shows up to Pooja.
Pooja is extremely happy and runs to her. Pooja and Tara hugged each other and cried.
After wiping the continous tears, they broke the hug with a smile.
Pooja poked Tara's nose and asked, "Why didn't you tell that you're here only…"
Tara – "Kabir asked me to hide it…"
Tara and Pooja looks at Kabir who is looking at them with a smile. Pooja and Tara go to Kabir. Pooja hugged Kabir and thanked him.
Tara – "I think it is the best birthday gift you ever got and I never forget."
Pooja emotionally nods yes.
Pooja – "I don't know why, I am getting melo-dramatic now."
Kabir – "Awww….."
Pooja – "What aww…."
Tara, Pooja and Kabir laughed at her.
To be continued…
Author's note:
Hello everyone, I'm sorry for being late. I'll update this story once in a week (sometimes two) hereafter. I hope you loved the episode like other episodes. Do give your views in the comments section.